What is Mobile Marketing?
Is Your Web Presence Mobile Friendly?
Mobile Marketing simply means offering a product or service to a potential customer or client thru the use of a cellular (or mobile) device. Advertising using mobile devices is an emerging new way to advertise compared to more conventional methods. Mobile marketing device technology is quickly changing.
These changes are creating a variety of tremendous applications, as well as positive effects on the marketing and advertising industry overall.
Most of the advertisers using mobile marketing are large corporations and organizations. This, however, does not lock out small businesses as the cost of Mobile operation is usually minimal. The problem is that most small business owners DO NOT understand how important mobile advertising is for the growth of their business.
Young kids are getting smart phones, ipads and iphones at very early ages. What this means for you as a small business owner is they will using these devices for more and more information as time goes on.
Mobile Advertising is an extension of internet marketing and trends are showing that it could be even more effective over time. People are slowly moving away from using their PCs to browse the internet and opting for the convenience found in mobile devices. Mobile phone internet usage is expected to exceed desktop internet usage within a couple years. Therefore, even more people will be glued to their mobile devices performing internet searches. This is why every business should take a serious look at adding mobile advertising efforts.
Ever increasing numbers of people own and use some type of mobile device daily. In fact, the majority of people carry their cell phones with them at all times and many of them go to bed with their phones right by their sides.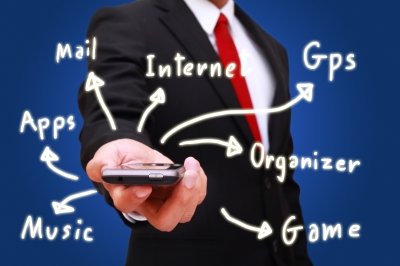 It's estimated that almost six billion people worldwide have access to mobile phones!
It's estimated that 55% of mobile phone users own a smart phone!
It's estimated that 45% of smart phone users rather use them than pc's or laptops when searching online for products and services!
Smart phone users are finding solutions to their problems and making purchases via those devices!
It's estimated that very soon smart phones will replace desktop computers as the primary internet device!
If your small business website is not optimized meaning easy for potential customers to see on their mobile devices they will visit your competitors mobile ready site and buy from them! Watch this video to learn more about how important a mobile marketing plan is for your business…
Mobile Marketing?
There are also hundreds of new applications being added every day giving people more options on using mobile devices to solve their problems, answer questions, conduct business transactions and provide entertainment. There are almost 1,500,000 apps in the market and counting. The different types of mobile applications are….
Social Networking – connecting to social media websites

Gaming Apps – a huge market for game playing on mobile devices

Music – another huge market for downloading of virtually every kind of music

Organization – Another common type of phone application can be broadly categorized as organization-based. These apps allow users to handle meetings and appointments via calendar programs, take notes through word processor apps, and write out memos such as shopping lists.

Lifestyle – This broad category of cell phone application covers everything from coupon apps, which offer vouchers for services and products from brands, to recipe applications which aim to provide inspiration for cooking. Some of these applications are genuinely helpful, such as those that find the nearest public bathroom or calculate the cheapest gas prices around, while others, such as those which predict the length of your marriage, are just for fun.
Text Message Marketing allows you have the ability to send a message to thousands of customers by simply pressing a button.
Marketing your business using mobile phones is as good as having thousands of people in the same area wearing t-shirts advertising your business every day.
Technology waits for no one and small businesses should move with it by embracing the use of marketing by mobile to popularize their brands and increase their customer base.
Let Vision Marketing Services help you navigate utilizing the power mobile advertising for your business.
CLICK HERE FOR A FREE CONSULTATION!
HOME